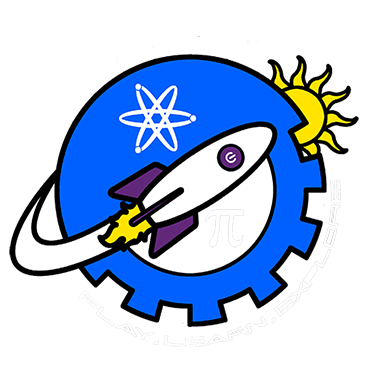 Play, Learn, Explore
An indoor children's playground combined with
a hands on STEM museum located in
Westminster at 6805 W. 88th AVE
View Our Schedule for 2020
Always Booking Field Trips!
KidSpace is an affordable place for parents and educators to bring children to explore STEM concepts through play. Educators can create their own distinct lesson plans utilizing our planetarium shows, playground, and engaging "labs." KidSpace provides the resources and structure for educators to demonstrate science-related concepts in a space-themed environment.
KidSpace is designed around three distinct areas, providing a unique platform for educators to enhance classroom lessons and activities:
LearnSpace! is our full-dome theatre. We have 21 different planetarium style shows exploring the solar system, distant galaxies, and new discoveries. Educator Guides are available for most of these shows.
ExploreSpace! provides an opportunity for children to explore STEM concepts in one or more of our "labs."

Ballistics Lab is the largest portion of ExploreSpace!. Over 500 sq. ft. on two levels, includes ball vacuums and blasters.
Engineering Lab is a 5 ft. by 8 ft. exhibit demonstrating the six simple machines. Up to 6 children can manipulate the levers to watch wheels, inclined planes, screws, and wedges at work.
Launch Lab includes four air rocket launchers aimed at space-themed targets. Use our pre-made rockets or design and make your own as a classroom activity before your trip.
Magnetic Lab is a small exhibit featuring Ferrofluid, a nanometer-sized magnetic particle. Combine with our planetarium show, Magnetism, and your own classroom activities involving magnets.

PlaySpace! is our unique space-themed playground, where children can discover views of Earth from space, planetary facts, wormholes, satellites, and space shuttles while climbing, sliding, and dodging obstacles.
Here are a few of the ways KidSpace can supplement STEM-focused lessons:
Enhance your Unit on the Sun.The full-dome show, Sunstruck, allows students to experience the birth of the sun and discover how it supports life on Earth. An educator's guide to the show is available online, so you can develop curriculum and activities around the show.
Explore the Science of Flight. Use our large party room to demonstrate rocket design. Let students experiment with building paper rockets** and test them in our "Launch Lab." Combine this experience with the full-dome show, Flight Adventures.
Immerse Students in the study of our Solar System. Let children loose in our space-themed playground, where they can traverse obstacles listing planet facts. Then, take a journey across the solar system while watching one of our planetarium shows such as, IBEX: Search for the Edge of the Solar System.
**KidSpace does not provide on site instruction for field trips.
Educators: Contact us today for a tour of our facility and to discuss your curriculum units and specific needs!
Contact: Kim Noel, Field Trip Coordinator
Summer Camp Directors: It is never too early, or late, to book your field trips.